| | |
| --- | --- |
| Material | Biodegradable PVC |
| Card size | 86 x 54 mm |
| Thickness | 0.76 mm |
| Type | Card |
| Classification | Eco-friendly |
| Packaging | Per 100 |
We offer you an ecological alternative to classic plastic cards!
Just like the others, these biodegradable PVC cards will allow you to make/personalize the badges, passes and other cards you may need during your events, or for managing the entrances/exits of your employees.
PVC resin, a biodegradable material
These cards are made of biodegradable resin PVC. This material has been designed to offer the same characteristics as standard PVC, but offers the advantage of degrading much more quickly when it encounters a fertile environment (soil, compost, recycling space, etc.)
Looks similar to classic PVC cards
Beyond the environmental benefits they bring, these biodegradable PVC cards look just like standard cards: appearance, finish, etc.
They can be used with common monochrome or color ribbons and offer optimal print quality.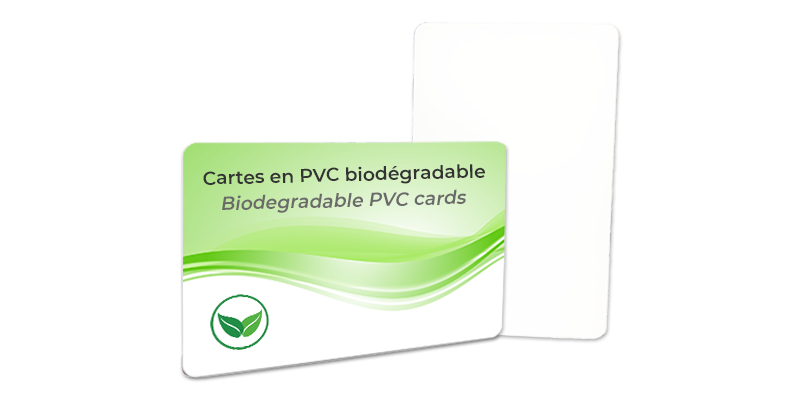 CR80 size
These cards comply with the ISO CR80-7810 standard:
Dimensions: 85.6 x 54 mm (standard credit card size)

Thickness: 0.76mm
These badges therefore fit perfectly in a badge holder, a wallet, or even in the back of your pocket!
Lanyard + badge holder + card: the winning green combination
Do you need completely ecological accessories? We suggest that you combine these cards with a biosourced PLA badge holder and a bamboo lanyard.
More than 450 references

A wide range of products in stock

Strict quality control

The products are checked rigorously

Fast delivery

Thanks to our stock

Quantity discounts

Based on order volumes