| | |
| --- | --- |
| Material | 100% recycled PVC |
| Card size | 86 x 54 mm |
| Thickness | 0.76 mm |
| Type | Card |
| Classification | Eco-friendly |
| Packaging | Per 100 |
These blank cards in 100% recycled PVC are perfect to use for daily badges (staff management, gift cards, etc.) while respecting your environmental approach.
100% recycled PVC
These cards are made from 100% recycled PVC. PVC is a well-known material in recycling channels. Indeed, it can be recycled several times without its original properties being degraded.
To manufacture these cards, the material is subjected to a rigorous process of selection and washing before transformation. Thanks to this, these eco-friendly cards will always be qualitative and efficient!
A rendering as qualitative as classic cards
The use of recycled PVC for the manufacture of these cards in no way affects the quality and rendering after printing. Thus, you can personalize them with all types of plastic card printers, whether you use a monochrome or color ribbon.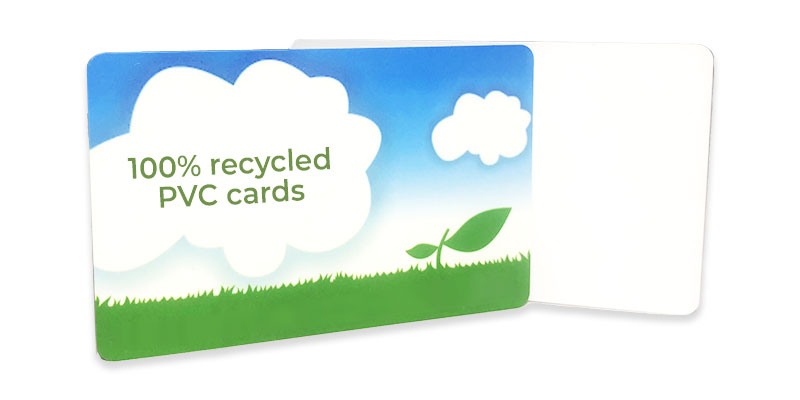 CR80 size
These cards comply with the ISO CR80-7810 standard:
Dimensions: 85.6 x 54 mm (standard credit card size)

Thickness: 0.76mm
These recycled badges therefore fit perfectly in a badge holder, a wallet, or even in the back of your pocket! 
And what more?
To always respond to environmental issues better, we are committed to offering a complete range of eco-responsible products: paper cards, biodegradable cards, biosourced badge holders, bamboo lanyards, etc.
More than 450 references

A wide range of products in stock

Strict quality control

The products are checked rigorously

Fast delivery

Thanks to our stock

Quantity discounts

Based on order volumes